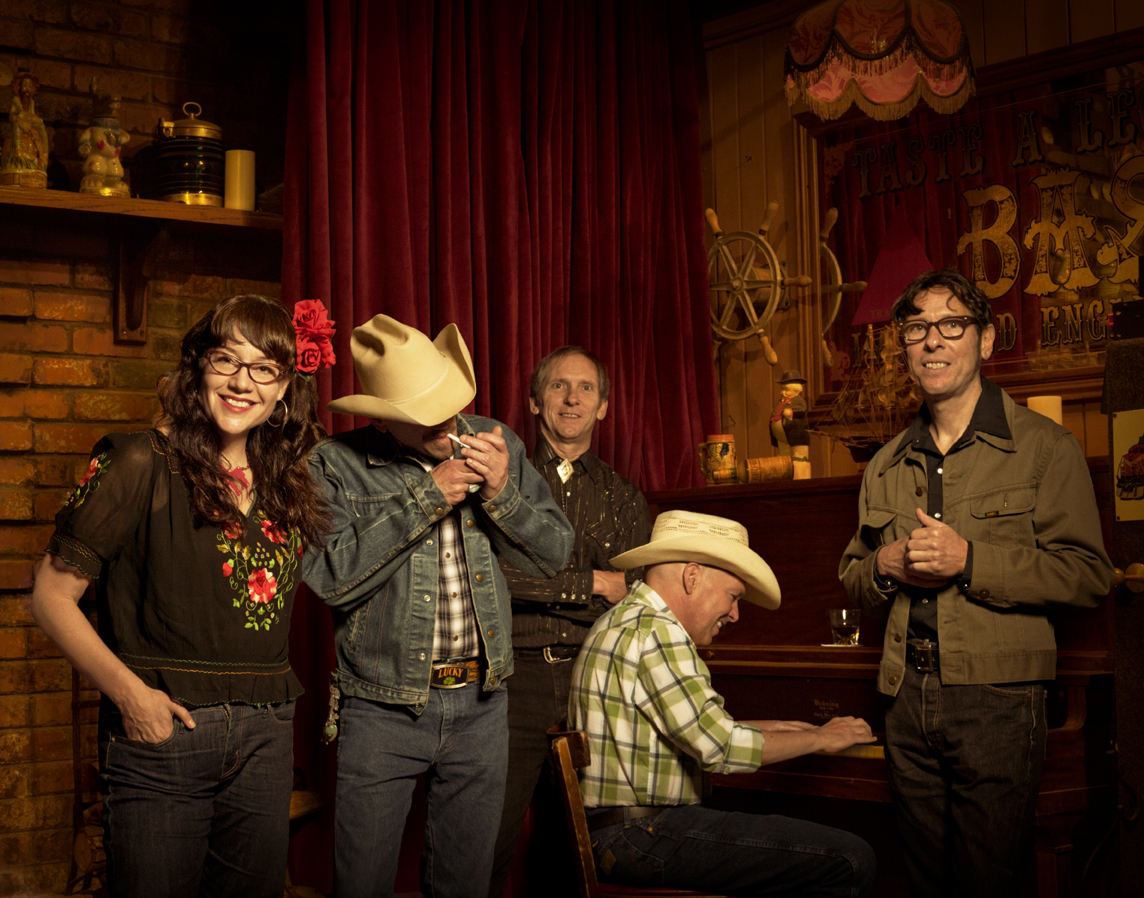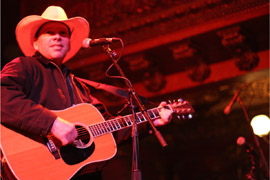 Scott was born in Springfield, Missouri to a family with strong musical traditions going back generations. Two uncles and four aunts had a gospel group in the 50s and 60s called the Waymakers. His first cousins form one of Springfield's most celebrated bands,
Big Smith
. His father is a music and choir teacher, who was offered a teaching job in Keokuk, Iowa when Scott was 11. And it was in Keokuk that Scott met Smelley Kelley when they were both taking harmony classes from Scott's dad. Scott is the composer of most of Red Meat's repertoire, including the classics "12 Inch 3 Speed Oscillating Fan", "Girl with the Biggest Hair", "Lolita", "That's What I'm Here For", and "Honky Tonk Habit". Scott arranges all of Red Meat's harmonies, and his influences there run from Brian Wilson to Johnny Mercer to Willie Nelson. Come up to Scott after a show and give him a nod. He'll give you a nod back.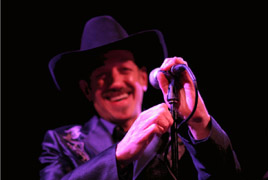 Someone once said that Smelley has lived out a number of country songs in his life, and provided inspiration for many more. If you know Smelley, you know this to be true. Smelley hails from Keokuk, Iowa, where he was born and raised. He and Scott have been singing harmonies since they were freshmen in high school. Never at a loss for words, Smelley will tell you anything about his life if you ask him nicely. Everything from his days as a hard drinking, motorcycle riding, tough guy, sheet metal worker in Keokuk, to his mid 70s migration to San Francisco, to his first bands with Scott — the Fillmore Four and the Genuine Diamelles — and his non-drinking ways for the last 20 years. Hell, Red Meat fans know he'll even talk about all that onstage. And toss in a good old fashioned dirty joke or two.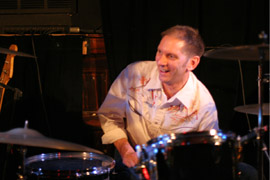 Les was born in Henryetta, Oklahoma, and grew up in Jenks, just south of Tulsa. When Red Meat travels to Tulsa, his childhood friends regale us with stories of young Les and the scrapes he'd get into, always ending with Les' ever-present laughter. While still in the Sooner state, Les cut his teeth with country bands, marching bands, pit orchestras for theater, Radio Milan, the Insects, even a drum track in the Smithsonian Institution. In his early San Francisco days, Les played with the Mockingbirds, and in addition to Red Meat, has played in country bands such as Rico Bell (Mekons), Tom Armstrong, and the Burning Embers. And here's something you may not know about Les: he can perform cowboy hat tricks. And his grandfather was a snake-handling Pentecostal minister.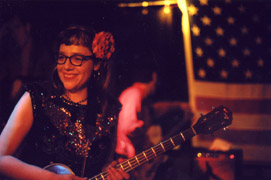 When Jill moved to San Francisco from her hometown of Ottumwa, Iowa, it was 1985 and she was in a band called the Stouthearted. They played around San Francisco until Jill and Michael formed the powerhouse pop/surf/country/polka/conjunto ensemble the Movie Stars. After two albums and some national touring, the Movie Stars hung it up in the early 90s. Sensing their chance, Scott and Smelley recruited her for Red Meat outside the Bank of America on Fell Street, where Jill had just withdrawn her last twenty dollars. She hasn't looked back since. Jill is the writer behind Red Meat's "Broken Up and Blue", which landed on the soundtrack to Monster's Ball and was played by the Academy Awards Orchestra when Halle Berry won her best actress Oscar. She also is the composer of "Thriftstore Cowgirl", one of Stephen King's favorite songs from the We Never Close album. Jill has also played with John Wesley Harding, Mare Winningham, and her own solo band.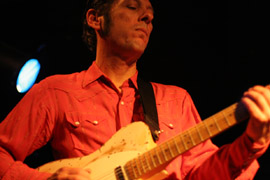 Just look at the credits. Michael can play just about any instrument that's put in front of him, but in Red Meat he is mostly known for his show-stopping Telecaster solos. Michael's hometown is Lorain, Ohio, where his father was the blast furnace supervisor at the local steel mill for 30 years. When Michael graduated high school, he was set up with a job at the steel mill as well. Two months later, a friend told Michael that he was going to be driving to San Francisco the next day, and would Michael care to come along? And the rest is history. Before joining Red Meat, Michael was with the Jars, Mare Winningham, and with Jill in the Movie Stars. His guitar influences run from James Burton and Don Rich to Steve Cropper and George Harrison.